Standing Deputy Prime Minister Nguyen Sinh Hung has directed the Ministry of Transport to begin construction of Nhat Tan Bridge on Viet Nam National Day, September 2.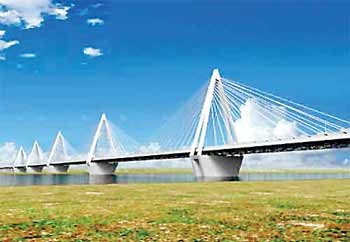 The artist impression of Nhat Tan Bridge
Mr. Hung asked the ministry to try its best to complete the bridge by October 10, 2010, the 1,000 anniversary of the construction of Thang Long, Ha Noi's ancient citadel.
The Ha Noi People's Committee, as well as related agencies, must clear space for construction as soon as possible, Mr Hung said.
The 8.2-km Nhat Tan Bridge will span the Red River. Its main section will be 3.8-km long and the cost of construction is projected at VND8 trillion (US$476 million). The Japan Bank for International Cooperation and the Vietnamese government will co-finance the project.