Eight crew members of the Tra Ly 18 vessel which capsized off the central province of Nghe An were rescued at noon on Wednesday by the Hoang Vu 01 vessel, belonging to the Hoang Vu Shipping Company.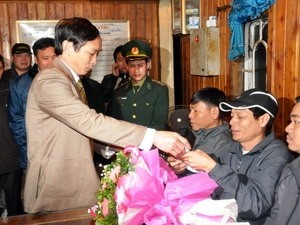 A member of the Quang Ninh Port authority (L) meeting rescued crew of the Tra Ly 18 vessel at Cam Pha Port (Photo: VNA)
At 7 a.m. on the same day, the Hai Phong coast guards received an emergency call for help from the Tra Ly 18 vessel, belonging to the Thai Thuy Shipping Enterprise.
The coast guard station coordinated with Hai Phong Port authorities to track down the 500 tonne boat carrying cement from Hai  Phong City to Quang Ngai Province, at a point 102 sea miles northeast off Vinh City in Nghe An Province.
This information was relayed to other vessels operating in the area, so that the nearest could return the emergency call for help.
The Hoang Vu 01 vessel reached the boat in time and by noon rescued all eight crew members.