In conformity with forecast by the National Hydro Meteorological Forecasting Center, El Nino phenomenon has affected Vietnam's weather since early September, causing drought amid the annual stormy season.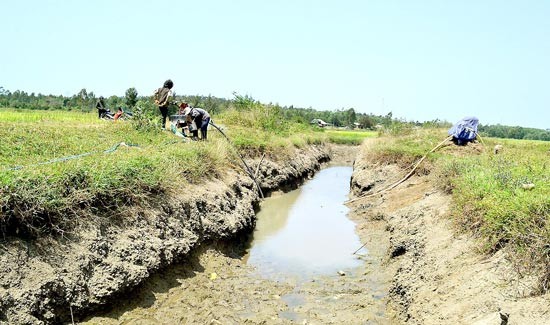 Farmers dredge a canal for irrigation water in Binh Son District, Quang Ngai Province (Photo: SGGP)
There were only two typhoons and one tropical depression operating in the East Sea in August. Of them the second typhoon directly impacted Vietnam, said the center.
Center director Hoang Duc Cuong said that this year Vietnam would see fewer storms than several years with another two to three predicted because the El Nino phenomenon is likely to go on until early next year.
However, the possible storms might contain unusual factors especially in the southern region, he said.
The center also warned of widespread drought especially in the northern mountainous region in the coming dry season.
 
Water level will quickly recede on the Red River from late September. Other rivers in the northern region will see it 10-30 percent lower than average level from November to December this year.
Several areas in the country have been forecast to suffer drought with the worst hit in the central region, where the storm and flood season should have begun since August but it is still hot and muggy.
Since early this year, average precipitation in the central region has been accounted for 50 percent of the same period in several years, according to the Ministry of Agriculture and Rural Development.
It has been as low as 20-30 percent in Quang Ngai, Binh Dinh, Phu Yen and Ninh Thuan Province, the ministry reported.
Deputy minister Hoang Van Thang expressed concern about an impending shortage of irrigation water for the winter spring rice crop.
It has never been like this year when the ministry manages to cope with drought amid the stormy season at this time.
The ministry has issued a directive instructing local authorities to be ready for drought and salt intrusion.