Deputy Prime Minister Nguyen Sinh Hung has called for social contributions for taking care of the elderly.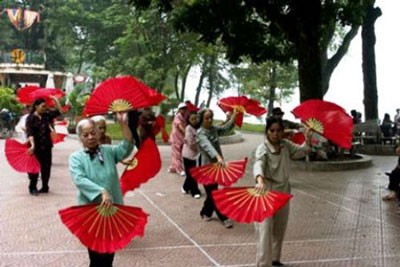 Elderly people practice Tai Chi Chuan exercises
Individuals, organizations and communities should work together to look after the elderly, with the media raising public awareness of this age group, the Deputy PM stressed.
Mr. Hung ordered district administrations to provide new houses for the elderly instead of temporary accommodation. Administrators must finish the task in 2009. Moreover, local governments should check the elderly have been issued with health insurance.
Around 700,000 elderly receive pensions in the country and 650,000 people have a monthly subsidy, which accounts for 91.9 percent of the elderly. This year's target is to improve 95 percent of seniors' lives, 100 percent persons will be received care of their relatives.