An uncontrollable fire hit a four-story house in Alley 150 of Nguyen Duc Canh Street, in Hoang Mai District in Hanoi on June 11, killing five of ten people inside.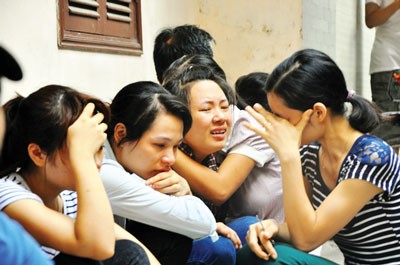 Relatives of dead people crying (Photo: SGGP)
Neighbors of the house said that the flame broke out at 1 AM on the day as they smelt of burning and saw smoke rising from the house. Soon they banged the door of the house to warn people inside and called fire fighter forces.

At that time, there were 10 people in the house and five of them escaped from the fire through the window in the second floor while the other five on the third floor, died in the blaze.

After receiving the information, firefighters rushed to the scene; however, they had to struggle to extinguish the fire as the house is located deep in the small alley. After three hours, the fire was under the control.

The bodies of the five victims including Nguyen Van Son, 62; his 63-year-old wife Kim Thi Ly; Nguyen Van Hieu, 33; Hieu's wife, Le Thi Chien, 31; and their an one-year-old baby, Nguyen Duy Hung,
were removed from the house,
The fire destroyed all items in the house including three motorbikes and documents.

According to police, the fire was initially caused by an electrical fault yet however the police will continue investigating the cause of the blaze.

Local authorities have given supports to the victims and asked local governments to be alert to fire fighting.