A 38-year-old male elephant was found killed in Tuyen Lam Lake area in the Central Highlands city of Da Lat yesterday.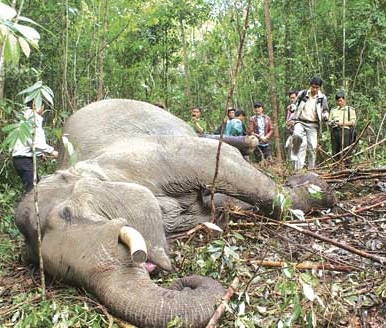 The dead elephant lying in the forest in Da Lat City (Photo: Thanh Nien)
According to staff members of the Nam Qua ecotourism site, the elephant was found missing since early yesterday morning. After three hours of search, they found the elephant's dead body three kilometers from its cage.
At the scene, the elephant's leg was found chained to a tree and tendons from his rear legs were also cut-off.
On the same afternoon, Da Lat City investigation units and the forest management division came to the scene to investigate.
According to director of the Nam Qua ecotourism site Phan Thi Hoa, her company had brought up the elephant for tourism purposes for the last seven years.
Last year, the elephant was also attacked by bad elements on two occasions and had suffered several cuts on his body.