Eleven crewmembers from the cargo vessel Van Don 02, which sank on the southern part of East Sea on December 28, returned to their homes in Quang Ninh Province on December 30.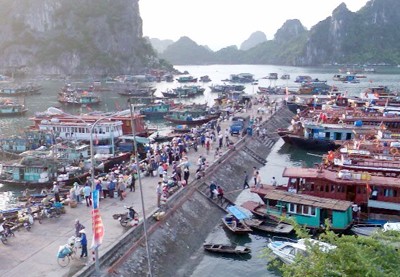 Van Dong Port in northern province of Quang Ninh.
Earlier on the same day, twelve crewmembers were brought to Ho Chi Minh City's Cho Ray Hospital. However, one of them had to stay at the hospital due to his trauma in stomach.
According to Dr. Ton That Quynh Ai, from the hospital's Emergency Aid Department, most patients were slightly injured, but none seriously. However, sailor Le Van Bat, 51, is gravely injured.
On December 28, Van Don 02 was sailing from Malaysia to Ho Chi Minh City when rough seas stuck the ship, making it list. Eventually the boat sank it.
All 23 crewmembers jumped overboard, but only 11 were saved from the rough seas by fishing boats. However, another man from the cargo vessel Van Don 02 has been saved. This now takes the rescued crewmembers to 12; but another 11 people from the ship are still missing.
The remaining crewmembers that were lost at sea have been identified. They are mainly from the provinces of Quang Ninh, Hai Phong, Thai Binh, Ha Noi and Ha Nam.
The vessel, which was carrying steel, belonged to the Quang Ninh Maritime Transport and Export-Import Joint Stock Company, which is based in the northern Vietnam.

Related articles: