Farmers in Ben Tre Province's My Trung Village built an embankment to regulate water in their waterlogged rice fields.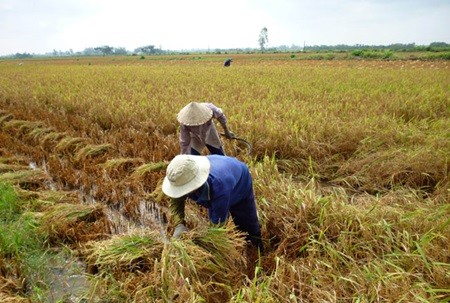 Farmers harvest rice in My Trung Village in Ben Tre Province. The villagers have built an embankment to prevent further inundation of the rice fields. — VNA/VNS Photo Tran Thi Thu Hien
The village's rice fields cover 200ha. More than two thirds are on low-lying land and would often become submerged, causing farmers a lot of difficulties.
So 27 of the village's households started building an embankment for more than 9ha of crops early last year. It worked well over the past year, raising the village's average productivity from 4 tonnes per hectare to 6 or 6.5 tonnes per hectare.
Vo Dong Khoa, a farmer with 3,000sq.m of rice, said that before he wasted a lot of time and petrol pumping water from his fields.
"If the water level rose in the harvest period, there was no dry place to air the rice, so I had to put them in water and the quality decreased," said Khoa. And he couldn't use the wet rice straw to feed his cows because it went rotten. But since the embankment was built, his problems have evaporated.
Nguyen Thanh Tri, another farmer in the village, said that thanks to the embankment and the use of more technology, his fields' productivity increased.
With the embankment, Tri and other households in the embankment areas signed a contract with the Ben Tre Hi-tech Application Centre to produce seed rice.
Producing seed rice doubled the farmers' incomes compared with planting rice, Tri said.
Vo Van Dung, a representative from the My Thanh Commune Farmers' Association, said that since the embankment was built, the local farmers have followed the crop schedule more closely. They also chose the same rice seeds to make the cultivation easier.
The association would work with the households on a plan to expand the embankment, he said.