Vietnam is absolutely committed to developing its comprehensive strategic partnership with China , considering it a top priority in both the short and long term, according to Vietnamese Ambassador to China Nguyen Van Tho.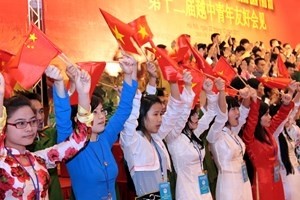 (Photo: VNA)
The diplomat made the remarks during a January 17 banquet hosted by the Vietnamese Embassy in China to mark the 64 th anniversary of Vietnam-China diplomatic ties (January 18, 1950-2014).
He said the establishment of ties was a milestone leading to the current comprehensive cooperation between the two countries.
Despite complexities in the regional and international situation, as well as many ups and downs in bilateral ties, the friendship between Vietnam and China - initiated by President Ho Chi Minh and President Mao Zedong and nurtured by generations of leaders ever since – has remained steadfast.
Bilateral ties have helped achieve common aspirations and benefitted both peoples, in line with the current trend of mutual development and prosperity, he said.
Tho reiterated that the Party, Government and people of Vietnam treasure the effective support that China gave the country during its struggle for national independence and reunification- which has continued as Vietnam has undertook its ongoing socialist development.
He noted that China has been Vitenam's largest partner during the past nine consecutive years, with two-way trade hitting 50 billion USD last year.
Agreements and common understanding reached during meetings between leaders of both countries has shaped the future direction of the ties and strengthened the trust shared by both nations, the ambassador said.
He also expressed belief that the Vietnam-China partnership will further flourish in line with the wishes of both countries.
In his speech, Chinese Deputy Foreign Minister Liu Zhenmin stated that the bilateral relationship has recorded positive progress last year. Leaders of both countries have achieved common perception on consolidating the shared friendship and settling existing issues appropriately.
The Chinese side considers Vietnam as an important part of its external relations, he said.
He added that China is ready to work with Vietnam to boost exchanges of delegations and all-round cooperation and seek proper measures to settle all maritime issues, bringing more benefit to both peoples.
Earlier the same day, Ambassador Tho held a New Year meeting with local press in China, briefing them on the basic socio-economic situation in Vietnam and the progress made in its external relations, Party building and relationship with China.