After the June 10 landslides in the Binh Thuy district of Can Tho city, now parts of Nga Bay town in Hau Giang province are also in danger of falling into the river, forcing many provinces in the Mekong Delta to carry out emergency procedures to prevent similar incidents.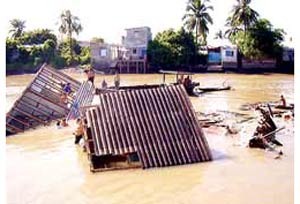 Landslides in Binh Thuy district of Can Tho city.

On June 23, the Hau Giang Peoples' Committee declared that after surveying the dangerous spot and considering the 30 families that would be affected by a possible landslide. Huynh Minh Chac, President of Hau Giang province, has requested that local authorities urgently implement emergency measures to prevent further landslides in the area.

The authorities have been told to make emergency repairs to both the collapsed embankment and the remaining embankment along Tran Hung Dao Street. President Huynh has also stressed that long-term repairs will need to be carried out even when the embankment is safe.

Huynh urged local authorities to estimate the damage caused by the disaster in order to draw up plans to cope better with similar situations in the future. The authorities have been ordered to keep a close eye on any places in danger of collapse and must help to move all residents from the dangerous zones to areas of safety.

The Hau Giang Peoples' Committee has asked the local authorities to compile and study the information gathered from this year's annual survey in order to forecast the landslide situation during both the dry season and the rainy season next year. it has also assigned the relevant departments to make preparations and take the necessary preventative measures.

Since the beginning of the year, there have been 30 reported landslides with 49 kilometers of riverbank reportedly collapsing in the Hong Ngu district of Dong Thap province. The landslides have forced 1,654 families to leave their homes and move to safety. However, due to financial shortages, the district has not yet been able to provide enough land for those residents too poor to afford new accommodation and so only 85 families have new homes.

Dong Thap province is investing VND40 billion (approximately US$2.5 million) in a project to prevent further landslides in the Long Thuan commune, and to provide accommodation for local residents.

Helping the poor to overcome difficulties caused by the annual shortage of food supplies in landslide-affected sections, the USAID (U.S Agency for International Development) and UNDP (United Nations Development Program) have given US$182,250 to support the "Preventing Flooding in the Mekong Delta" project. The project lasts from May to September this year and includes the building of embankments to protect two residential areas in the Nui Sam ward of Chau Doc town and Vinh Hau commune in the An Phu District of An Giang province. The project also aims to train government workers on how to use technology to prevent landslides, reinforce house foundations and increase cooperation amongst the community to minimize damage.