The government has decided to pay salaries for workers in businesses that have seen owners run away.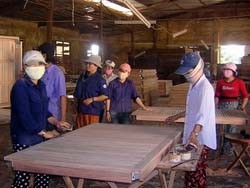 Workers at a furniture factory in Phu Tai IZ, Binh Dinh provinces. The gov't will pay salaries for workers in businesses where owners ran away (Photo: Tuoi Tre)
The government will sell the business' assets to pay back the exchequer. If this does not create enough money the government will assist. Workers will also receive loans to set up small businesses or learn a trade.
The Ministry of Labor, War Invalids and Social Affairs said that by the beginning of February 2009 the country had about 2,000 workers working in businesses where owners have absconded.
Most businesses are Korean-invested enterprises in HCM City. At present, the city has 62 Korean businesses that owe VND30.3 billion ($1.8 million) in social insurance.
In related news, the Support Center for Young Workers March 1 gave 30 presents, worth VND100,000 each , to workers who lost their jobs in Binh Tan District.
The same day, the center also coordinated with HCM City Hospital of Trauma and Orthopedic to examine and give free medicine to 400 workers in Binh Tan and Binh Chanh Districts. Total value of the medicine distributed was VND16 million ($941).