The Ministry of Foreign Affairs of Vietnam and the United Nations Development Programme (UNDP) will today officially launch a programme to empower women in the public sector and equip them with the necessary skills and knowledge to take on leadership positions. The project's launch coincides with International Women's Day on 8 March.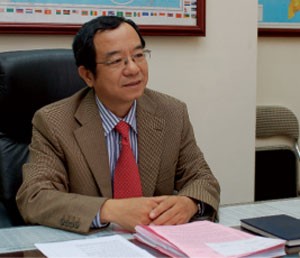 Deputy Foreign Affair Minister Dao Viet Trung
"On 8 March, International Women's Day will be marked around the world, and this day provides us with an opportunity to reflect on issues of gender equality and women's empowerment.
"Over the past few years, Vietnam has steadily improved its already high ranking on the gender index, part of the global Human Development Index. However, we need to work together to find every means to release the potential of almost half of Vietnam's workforce. 
"I strongly believe this project will play a vital role in empowering women in the public sector and ensuring they continue to play a key role in the further development of Vietnam," says Setsuko Yamazaki, country director of UNDP Vietnam.  
The Ministry, in collaboration with the UNDP, will carry out the five-year project, 'Empowerment of Women in the Public Sector in the Context of International Economic Integration'.
It will help to smash the glass ceiling which women in the public sector face. In particular, the project focuses on research to identify the challenges faced by women in the public sector; development of policy recommendations, scholarships for talented women working in the public sector – to study abroad, research and participation in conferences, and the creation of a network to promote women's leadership in the public sector.
Approximately 47 percent of working women in Vietnam are employed in the public sector and data from 2004 shows that women in the public sector were enjoying relatively better wages than men in other sectors.
 In 2008, Vietnam was ranked 96 out of 179 countries on the gender-related development index and 62 in terms of gender empowerment. Vietnam was placed 31st in the world and first among eight ASEAN countries for its proportion of female parliamentarians.
According to deputy Foreign Minister Dao Viet Trung, in the course of economic integration, the public sector in Vietnam requires a pool of highly qualified people. The majority of staff in the public sector today are women and they are increasingly taking on more active and broad roles within the public sector.
The government is developing policies to help women advance in the public sector and is recruiting highly skilled and talented people, both men and women, in order to meet the demands of economic development and integration, he added.
High-level government representatives, including the deputy Foreign Minister, the Women's Union chairwoman, Nguyen Thi Thanh Hoa, representatives from the National Committee for the Advancement of Women and the UNDP will be present at the ceremony.