Prime Minister Nguyen Tan Dung commended great contributions of the people's police forces in protecting national security, maintaining political and social stability and urging economic development.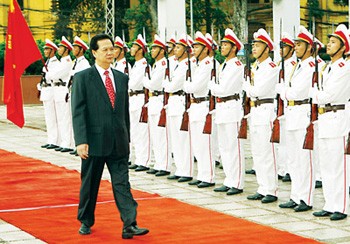 Prime Minister Nguyen Tan Dung at the 6th emulation congress for national security in Hanoi August 2
PM Dung, who is also chairman of the Central Emulation and Reward Council, made the statement at the 6th emulation congress, "For the national security", which was held to praise outstanding individuals and the police force, in Hanoi August 2. Over 233 delegates attended the congress from local police units.
Over the past five years, national security campaigns have been strengthened by various activities, closely attached to the political missions of the people's police forces, he said.
To develop the campaigns further, PM Dung ordered police forces to renovate both the content and form of their campaigns regularly so that they will be more suitable with the nature of the missions that police units undertake in localities.
In addition, he said that organizing and launching emulation campaigns should be done in accordance with the Party and State's economic and social development policies.
The police forces should always be active to discover and eliminate all plots of enemy forces, maintain national security and social order, and ensure safety for political events, national holidays and Party congresses.
Moreover, he tasked the police forces to take more actions to prevent and reduce crimes, especially against criminal organizations and those selling drugs and using high technology.