Illegal encroachment on rivers and canals is one of the main causes of severe flooding in HCM City, experts have said.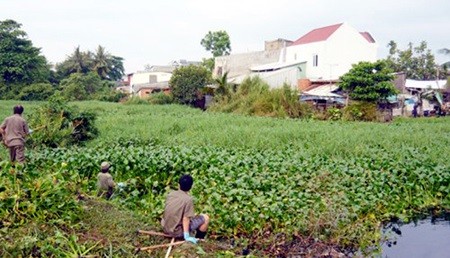 The Cau Cut Canal in HCM City's Go Vap District is narrowed by houses along its riverbanks. Illegal encroachment on the canal has caused flooding on many streets. — Photo govap.hochiminhcity.gov.vn
The HCM City Urban Drainage Company said that houses and other structures have encroached on 54 out of 110 rivers and canals managed by the company, according to a report in Tuoi Tre (Youth) newspaper.
The Cau Cut Canal in Go Vap District, for instance, has narrowed because of construction of houses and other building projects along the canal riverbanks.
Cau Cut is the main drainage canal for residential areas on Le Duc Tho, Le Van Tho and Cay Tram streets. The narrowing of the canal has caused flooding on many streets, according to the company.
Water in the canals with a high level of encroachment cannot drain properly, or drains very slowly, causing upper areas to flood, according to Le Huy Ba, former head of the Industrial University of HCM City's Environment Management and Science Technology Institute.
In Binh Thanh District, Van Thanh and Cau Son canals have not drained properly, and as a result, Nguyen Huu Canh and Bach Dang streets and nearby areas have flooded more seriously.
Binh Thanh has eight rivers and canals with housing built on or near riverbanks.
Hoang Song Ha, chairman of the Binh Thanh People's Committee, said the houses along the rivers and canals had been there for many years.
Most of these families living in these houses along riverbanks are expected to be relocated under a city programme to move households along rivers and canals.
"The district has submitted plans to the People's Committee to dredge rivers and canals and relocate households," Ha said.
Do Tan Long, head of the city's Steering Centre of the Urban Flood Control Programme's Drainage System Management Division, said illegal canal encroachment was a chief cause of flooding in addition to the outdated drainage system, which meets only 50 per cent of demand.
The centre has sent information about the most problematic spots to districts' People's Committees, but work by the districts has proceeded slowly.
Le Hoang Minh, deputy director of the city's Transport Department, said the department had not received requests to dredge 54 encroached rivers and canals from the HCM City Urban Drainage Company and the HCM City Steering Centre of the Urban Flood Control Programme.
He said that agencies should first identify which rivers and canals should be dredged as the transport department must work with the city's Department of Planning and Investment and the Department of Finance.
The dredging of some river and canals, including Nhieu Loc – Thi Nghe, Tau Hu and Ben Nghe canals, has helped reduce flooding in residential areas.
Inspection
On Tuesday, the city People's Council's Economy and State Budget Division inspected flooding prevention and control in Binh Thanh District.
Binh Thanh has 33 flood-prone spots, one of the highest in the city, according to the district's People's Committee.
The district's Nguyen Huu Canh, Nguyen Xi, Ung Van Khiem and Dinh Bo Linh streets have all been seriously flooded.
During heavy rains and high tides, many areas have been flooded up to 10-50 cm deep.
The Binh Thanh District People's Committee has asked the municipal People's Committee to allocate money for the district to dredge canals and collect water hyacinth on canals, including Van Thanh, Bui Huu Nghia and Xuyen Tam canals.
It has also asked agencies to install pumping stations and high-tide control stations to help drain water.
Inspectors asked the district to survey the results of flood-prone areas and report the results to the city's Economy and State Budget Division.