Employment, salaries and bonuses for the Tet holiday (Lunar New Year) were discussed at a meeting held by Vietnam General Confederation of Labor (VGCL) in Hanoi on December 30.
 
Due to inflation in 2008, some businesses have not made any profit. Some will need to reduce production or even close factories leading to job insecurity and job loses. These economic events are causing headaches for some provincial administrators, the Vice President of VGCL, Mr. Nguyen Hoa Binh, said.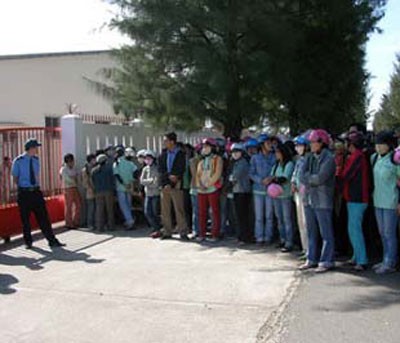 Workers go on strike at a factory in southern Vietnam in 2008 (filed photo)
Though approximately 50,000 companies were set up in 2008, providing hundreds of thousands of jobs for laborers, and more than 80,000 people going abroad to work, and industrial and economic parks drawing tens of, workers still face the dangers of losing jobs.
Over 22,000 workers have been made unemployed due to the world economic recession. Problems will continue into 2009, according to the Ministry of Labor, Disability and Social Affairs.
The difficult situation has also made its mark on wages of the public sector. Though salaries are stable, they are low, around VND1.8 –2 million (US$102-14) a month.
In addition, accommodation needs to be solved. Of 1.1 million laborers working for 185 industrial zones nationwide, around 800 thousand people need housing. Housing blocks are being constructed from the State's and companies' budgets and meet 7-10 percent of demands. There is a massive shortage of affordable housing.
Life is difficult for many employees and made worse by employers trying to cut pay and trade unions failing to protect workers. Such practices and failures have led to 755 wildcat strikes nationwide by November, with 181 taking place in HCM City. Almost 78 percent of strikes were conducted in foreign-invested businesses, VGCL reports.
The government needs to address the issues and come up with measures. However, the lack of professionalism by trade unions has made the situation worse by failing to protect their members' rights.
Mr. Dang Ngoc Tung, President of VGCL, told Sai Gon Giai Phong that his confederation will order trade unions, at all levels, to report workers' needs, especially just before and after Tet.