Wildlife at Risk Organization, the Ho Chi Minh City Forest Protection Department, the Kien Giang Forest Protection Department, and the Union of Friendship Organization on July 27 inaugurated the Hon Me Rescue Station in Hon Dat District, for the protection of endangered animals.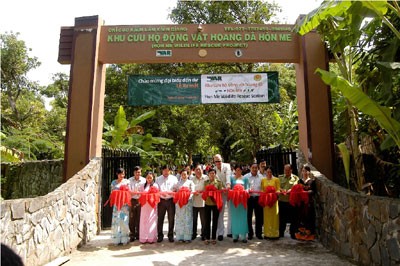 Representatives of Wildlife at Risk and Kien Giang Province leaders at the inauguration ceremony of the new Hon Me Rescue Station (Photo: WAR)
Staff in the three hectare station will take care of endangered rare animals in the Mekong Delta region before releasing them back into the wild.
The rescue station in Kien Giang Province is one of three stations under the management of Wildlife at Risk organization, the other being one in Cu Chi District in HCMC, and one for rescuing bears and cubs of the cat family in Cat Tien National Park in the southern province of Dong Nai.
The establishing of the US$500,000 Hon Me Rescue Station was carried out under the project titled 'Construction of Bear Rescue Station' implemented by Wildlife at Risk organization, Free the Bear, and the Brigitte Bardot Foundation in 2008-2010.
Currently, more than 50 animals belonging to eight endangered species are being rescued at Hon Me Station, including Moon Bear (Urus theibetanus), Sun Bear (Urus malayanus), Yellow-checked Crested Gibbon (Nomascus gabriella), Pygmy Loris (Nycticebus pygmaeus), Giant Asian Pond Turtle (Hyesemis grandis) and Elongated tortoises (Indotestudo elongata).
Most recently on July 13, the station received a Leopard Cat (Prionailurus bengalensis) for the first time, from local people who voluntarily handed over the animal. In coming time, this station will rescue other species such as snakes, turtles, and small carnivores.