Conservationists today announced that they had found the second biggest population of gray-shanked Delacour's langur (Trachypithecus delacouri) in a forest in northern Vietnam.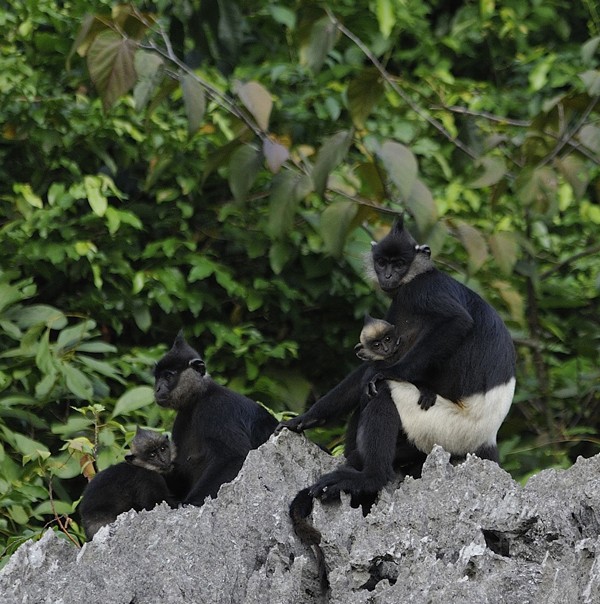 The second population of teh species is discovered by FFI (Photo: Courtesy of FFI)
Employees from the conservation organization Fauna and Flora International (FFI) Vietnam carried out an investigation to verify the existence of the animal in the forest.  Trinh Dinh Hoang, who led a survey group at the conservation organization Fauna and Flora International (FFI) Vietnam , said that they had found a population of around 40 individuals of Delacour's langur (Trachypithecus delacouri)
The primate species is unique to Vietnam. Most of the primates are victims of human being's illegal wildlife trade, wood exploitation and hunting, the species is still on the verge of extinction with the quantity of fewer than 250 individuals. Though the animal has not seen during one decade, scientists are hoping to save them from extinction.
Mr. Hoang added that as per investigation, the population has baby langur which means they will develop more if they are well protected.
According to Benjamin Rawson, FFI Vietnam program director, it needs to have urgent deed to prevent hunting and stone exploitation  to protect the rare animal, adding that his organization has announced the news to related agencies and will work with local administrators and inhabitants to call for more coordination to protect the species.
The population of Trachypithecus delacouri is between 281-317 individuals, only found in Vietnam.  The species was detected by Jean Théodore Delacour in 1903 and described by Wilfred Hudson Osgood in 1932. For 1990s, an investigation reported 19 populations with 281-317 individuals in a 5,000 square kilometer in a northern province Vietnam.
However, in a recent investigation, the species reduced drastically.