Three large turtles on list of endangered species were rescued from local fishermen's illegal catching in Khanh Hoa Province on Saturday.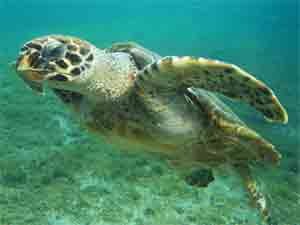 The Lepidochelys olivacea
At 8:00 a.m., while patrolling on Van Phong Bay in Van Ninh District, the border soldiers of Post 358 found three turtles being illegally caught by local fishermen. The largest one has a 95 –centimeter shell and weighs 320 kilos. The border soldiers immediately seized the turtles and reported the case to the Nha Trang Oceanography Institute.

The three turtles were then transported to the Institute and kept in a tank there. Dr. Bui Hong Long, director of the Oceanography Institute, said that the institution's veterinarians are following the health condition of the three turtles. They will be released to the ocean as soon as they get well again.

According to Convention on International Trade in Endangered Species of Wild Fauna and Flora (CITES), five kinds of turtle in Viet Nam including Eretmochelys imbricata, Lepidochelys olivacea, Chelonia mydas, Dermochelys coriacea and Caretta caretta are on top of list of animals endangered species.