An overseas Vietnamese, who is well-known in Viet Nam for creating a submarine named Yet Kieu, has received an order from a Thai company to manufacture 300 tourism submarines, following another recent order of 25 submarines from his partner in Malaysia.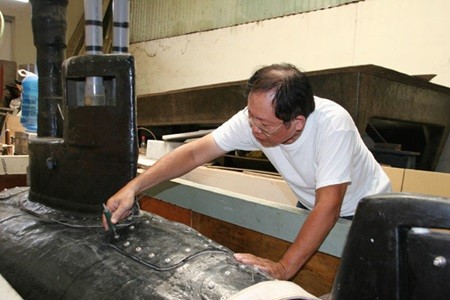 Engineer Phan Boi Tran and his Yet Kieu submarine at his workshop in HCM City's Binh Tan District. (Photo: VNA/VNS)
Phan Boi Tran, who resides at his workshop in HCM City's Binh Tan District, said a French friend introduced him to the companies, but he declined to reveal their names.
After the previous order of 25 submarines from Malaysia, he received a huge order of 300 submarines from a Thai company, following positive feedback from resorts that used his submarine for tourism purposes.
"While my Malaysian partner paid US$2,500 for each submarine, this Thai company agreed to pay US$5,000 for each one. They have signed the contract already," Tran told Viet Nam News.
He said Thailand, with a long coastline and developed tourism industry, is a promising market for submarine tourism.
The engineer said he would need 12 people to help him manufacture the submarines in Thailand.
Initially, he will make four submarines each month. In order to complete the order for 300 submarines, he will need six years. He plans to travel between Thailand and Viet Nam during that time.
"I'm not afraid that the technology will be copied because it is very hard to create these products," he said.
After the first submarines are completed, his Thai partner will introduce the machines to tourism partners in Southeast Asia.
He said his Thai partner had agreed to sign the contract, adding that the French partner will take 30 percent of the contract value.
Each electrically powered submarine is two metres long and 0.8 metre in width, and can carry two people.
The submarine can travel five nautical miles per hour and can stay under water for two hours.
After completing the $1.5-million contract with the Thais, he will seek partners in South America, which has the world's highest growth rate in the tourism industry, according to Tran.
The engineer, who once worked at a submarine manufacturer in France, said that several Vietnamese tourism companies and resorts had asked him about his products, but they had decided not to place an order.
"They feel scared about something that is new. After other countries in the region use the submarines and have success, Vietnamese companies will follow their rivals," Tran said.
The 61-year-old said his long-term goal was to create a small military submarine.
He said he would use money from his inheritance and from sales of the tourism submarines to further develop his Yet Kieu submarine, which has received a lot of press.
"Five years ago, I did not earn any income from selling submarines. When I have enough money, I will resume my military submarine project," he said.