Ben Co Banh Canh restaurant belonging to Hai Hen, 4 kilometres   from Tra Vinh town in the Mekong delta province of Tra Vinh, is a gastronomic delight for customers not only in Tra Vinh Province but also neighboring provinces.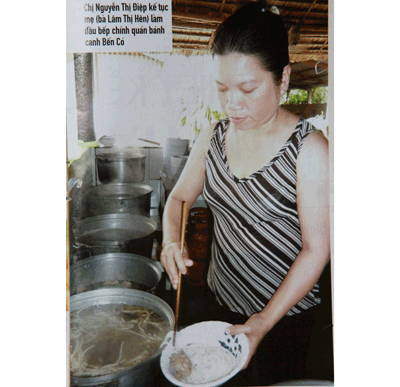 Nguyen Thi Diep, daughter of Hai Hen prepares to serve Banh Canh noodle soup to customers (Photo: SGGP)
Driving along National Highway 53, anyone who wants to enjoy the well-known Banh Canh noodle soup, but does not know the way to the famous Ben Co Banh Canh restaurant, can ask just about anyone on the street who will give directions to the famous restaurant.
Everyone in the town knows of Hai Hen in Chau Thanh District.  Her full name is Lam Thi Hen and she belongs to the Khmer tribe of North Vietnam.
As one speaks to her, one can notice pride glistening in her eyes. She recalls her humble days when she used to carry heavy pots of the soup from a shoulder pole and hawk on the streets, way back in the 1980's. 
The famous soup is in fact a street food, sold by vendors in villages of the Khmer ethnic minority people. Tapioca flour or rice flour or a mixture of both is cooked with little shrimps and coconut milk. 
Banh Canh soup is almost a clear soup when cooked with a chewy consistency. The rice flour version is much less chewy. There are also multiple versions of Banh Canh, but the three most popular are Banh Canh Cua (noodle soup with crab), Banh Canh Tom (noodle soup with shrimp) and Banh Canh Gio Heo (noodle soup with pork and ham).
In the 1980's, she made Banh Canh from rice flour, cooked with little shrimp and sold a bowl for only VND500 to the poor people in the district.
By peddling Banh Canh from her shoulder pole, Hai Hen managed to feed 7 children. As her children grew older, so did she and her weary and worn shoulder pole.
When Ba Om Pond emerged as an ideal tourist resort in the Mekong Delta province of Tra Vinh, Hai Hen hired a place to open a restaurant to sell Banh Canh.
To be able to serve people of varied taste, she decided not to cook noodles with coconut milk and replace little shrimps with pig bones. She and her children ate the noodles instead of normal rice to be able to create a few popular tasting dishes.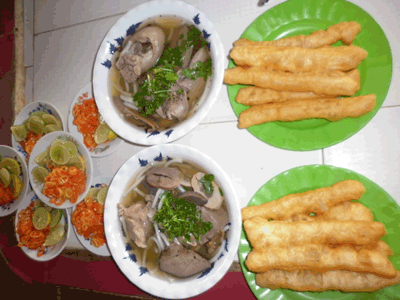 Bowls of Banh Canh soup ( Photo: SGGP)
Hai Hen reveals the recipe and secret ingredients of the dish to everyone, without fear of competition. According to her, to cook   a delicious bowl of Banh Canh, people should choose a good winter crop, stock it for over 6 months, and then grind into flour.
Even the rice to make Banh Canh she disclosed was a special variety such as mong chim, nang thom and nanh chon planted near the Co River.
She cleans the heart, liver, gastric and other internal organs with lemon and vinegar to get rid of the bad smell and boils them in separate pots.
She braises pig bones in a different pot with roasted onions. She has never used monosodium glutamate in the broth for fear the soup may loose its natural sugary taste of bone and meat broth.
She remains concerned about her children, as her income is modest from selling Banh Canh. She is very proud of her children as they are very grateful to her and feel for the poor. She hopes that in the future they will be able to earn a good living from other sources rather that hope to inherit her work.
The restaurant attracts many customers daily, who come to enjoy the countryside and the delicious dish, going away content and happy.  Her children are cheerful with customers and assist her in serving them.
The weather turns cold towards the year-end; and passers-by are   drawn to the restaurant with the smells of pepper, onion and meat coming from the restaurant. Customers are refreshed after a bowlful of chewy Banh Canh noodle soup with good fish sausages and slices of small red peppers.