The Ministry of Industry and Trade has worked with the northern province of Lang Son People's Committee on the implementation of an entrepot project, aiming to reduce the decade-long congestion of export farm produce at border gates.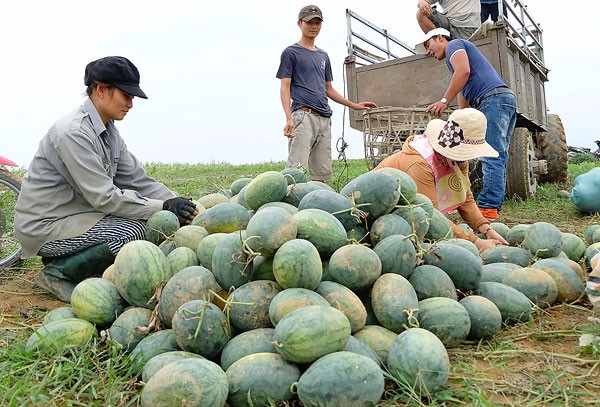 Many watermelon growers in the central region suffer heavy loss annually due to rock-bottom price during peak harvest time because the fruit transported to the northern border gates for exports to China has been congested there (Photo: SGGP)
Lang Son's deputy chairman Nguyen Van Binh said that the 2009 approved project would be built in Dong Dang -Lang Son border gate economic zone with a total capital of VND986 billion (US$45.20 million).
Under planning, the entrepot will stretch over 143 hectares in Cao Loc district and locate five kilometers from Huu Nghi border gate, 16km from Tan Thanh border gate and 15km from Bao Lam border gate.
The site will comprise a warehouse system, container truck station and goods yard.
According to the Customs Agency of Lang Son province, watermelon, litchi, banana, pineapple and other fruits have entered harvest season this year.

Everyday, an average of 1,200 trucks transport the fruits to the northern border gates to export to China. However local customs divisions are able to do custom clearance for 250-300 trucks.
The rest trucks are congested in the border areas and the fruits traditionally become rotten during waiting time. This condition has caused damage for businesses and Vietnamese farmers for the last 15 years.
A Ministry of Industry and Trade representative said that the project would help businesses minimize damage from the congestion. They can transport fruits to the entrepot to preserve before exporting to China.
The ministry proposed the province to build the entrepot as a non-tariff area, synchronously invest in warehouse and yard system and quarantine and quality testing centers.
The ministry asked the province to build a specific project in accordance with the state's assistance policies and then submit them to the Prime Minister for approval.

Related article:
Experts determine reasons for fruit congestion at border gates