The Vietnam Environment Protection Agency had a meeting on June 25 with authorities of 11 provinces located along Dong Nai River to discuss plans to curb the river pollution during the period 2015-2020.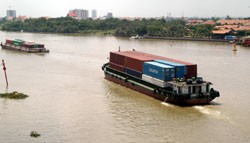 Cargo vessels operating on the Dong Nai River. (Photo:VNA)
The agency collected data from the provinces for implementing 24 projects to curb pollution, at a cost of VND700 billion (US$35 million).
The Dong Nai River runs through the 11 provinces of Dak Lak, Dak Nong, Lam Dong, Ninh Thuan, Binh Thuan, Ba Ria-Vung Tau, Binh Duong, Binh Phuoc, Dong Nai, Long An, Tay Ninh and Ho Chi Minh City.
The river water is facing serious pollution by huge volumes of untreated industrial and household wastewater flowing into it.
The 24 projects that will ease this situation include building hydropower plants to develop the sustainability of the river basin, check pollution levels, evaluate the effects of industrial waste and develop projects to protect the water resource.
The agency said that all relevant provincial authorities in the basin must take drastic measures against untreated industrial, household and medical wastewater flowing into the river which was a grave threat to the livelihood of more than 17 million people in the region.
There were many opinions amongst the provinces. Some thought that the number of environmental staff were too few, one staff per one million people. Others thought that the provinces lacked necessary equipment and the agency must invest more in equipment.