The Environment Impact Report of Dong Nai 6 and 6A Hydropower Projects presented to the Ministry by the investor is still not complete and needs clarification in many areas, said Nguyen Minh Quang, Minister of Natural Resources and Environment on June 13.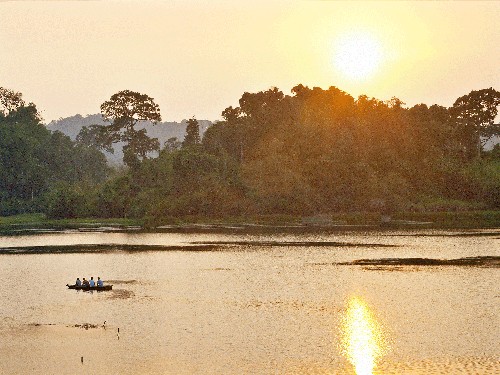 The Bau Sau Ramsar Site in Cat Tien National Park will be affected if Dong Nai 6 and 6A Hydropower Plants are built (Photo: NLD)
The Ministry is responsible for assessing and passing all environment impact reports concerning Dong Nai 6 and 6A Hydropower Projects.
According to Mr. Quang, the two projects will clear about 372 hectares of forest land of which 128 hectares comes under Cat Tien National Park.
Although the Duc Long Gia Lai Group, investor of the two projects, promises to replant deforested areas, they still have to specify tree species to be planted and on which location.
Besides, the Environment Impact Report has not put forward measures to protect marbled eel (Anguilla Marmorata)--an endangered fish species which is on verge of extinction, and has as its habitat the river section where the plants are expected to be built.
The eco-system of the Dong Nai River will be affected from construction of the Dong Nai 6 and 6A Plants, which is already under threat from Dong Nai 5 Hydropower Plant.
Another problem is that Dong Nai 6 and 6A Plants will have negative impact on the biodiversity of Cat Tien National Park.
Construction of the two plants will affect the livelihoods of farmers and seafood breeders in the lowlands, especially ethnic minority groups, namely, Chau Ro, Ma, Xtieng, and Mnong.
The Ministry of Natural Resources and Environment has thus returned the Environment Impact Report back to Duc Long Gia Lai Company to revise and fill in more details. So far, the investor has not returned with the updated details.
The Ministry has submitted to Deputy Prime Minister Hoang Trung Hai reports on Dong Nai 6 and 6A projects, including legal loopholes and environmental problems.

They have also forwarded opinion of the People's Council of Dong Nai Province to the Committee of Science, Technology and Environment of the National Assembly.
However, the Dong Nai 6 and 6A projects are part of the Government plan to generate electricity and the investor has taken a lot of time for preparation work. As a result, investor's efforts should also be respected and the final decision should balance benefits for the State, residents as well as the investor, Mr. Quang said.
After the investor revises the Environment Impact Report, the Ministry will again re-assess, and in case of any further shortcomings, the Dong Nai 6 and 6A projects will be halted.

Related articles:
Careful deliberation of hydropower projects in Dong Nai province
Dong Nai Province for independent report on hydropower projects
SGGP findings contradict Hydropower Plant Report