There is a high possibility of discontinuing with the Dong Nai 6 and 6A Hydropower Plant projects on Dong Nai river, if they prove harmful to the environment, said the investor of the projects on Thursday.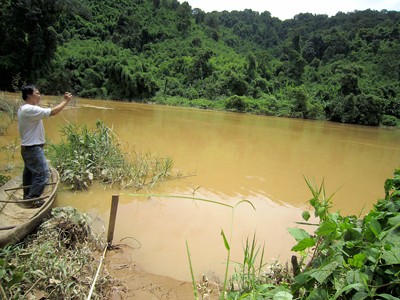 Environment experts say that particular forests in hydropower plant areas along Dong Nai river have several rare and invaluable plant species and will be eventually submerged if Dong Nai 6 and 6A Hydropower Plants are built (Photo: SGGP)
Speaking at a press conference, Mr. Bui Phap, Chairman of the hydropower plant investor Duc Long Gia Lai Group said that the projects will have to follow legal government procedures as well as comply with State regulations.
However, the final decision to go ahead with construction of the projects rests entirely with the Prime Minister and the environmental committee and if the projects so much as prove harmful for the environment, the Duc Long Gia Lai Group will discontinue them, he said
According to Associate Professor and Dr. Nguyen Van Phuoc, head of the Institute of Environment and Natural Resources under the National University in Ho Chi Minh City, the environmental impact reports for the Dong Nai 6 and 6A Hydropower Projects have already been sent to the Ministry of Natural Resources and Environment for study and assessment.
The ministry has established a council to gather views and opinions from localities near where the plants are scheduled to be built.
These localities include Binh Phuoc, Lam Dong and Dak Nong Provinces in the upper reaches and Binh Duong and Dong Nai Provinces and Ho Chi Minh City in the lower reaches.
Related article:
Dong Nai Province objects to hydropower plants