Deputy Minister of Natural Resources and Environment Vo Tuan Nhan said that the ministry was working with relevant ministries and responsible agencies to announce sea environment status quo in the central region this month, creating a basis for locals' awareness of safe and polluted areas.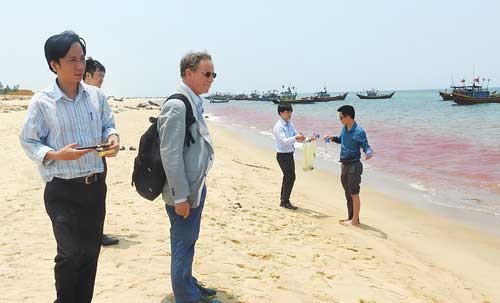 Officials from the Ministry of Natural Resources and Environment and international experts take red water samples at Nhan Trach sea, Bo Tra district, Quang Binh province for testing (Photo: SGGP)
According to a news source from the Science, Technology and Environment Committee of the National Assembly, Mr. Nhan made the statement at a meeting with standing board of the committee recently.
Mr. Nhan said that observation results in July showed that phenol and cyanide contents in the sea environment reduced strongly compared to April and May.

At the meeting, the ministry's representative said that it would review Vietnam's environmental standards which have showed many problems after the Formosa environment disaster.

Meantime, representative of the Ministry of Culture, Sports and Tourism reported that the central region's tourist industry is in front of large challenges.

Up to 80 percent of booking number at hotels and other accommodations in the north central region during the summer this year were canceled. The rate in Ha Tinh province was 100 percent. Thousands of human resources working directly and indirectly in the industry have been affected.