Mr. Nguyen Dinh Tuan – Director of Ho Chi Minh City Office of Environmental Protection answered: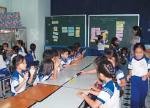 A class of environmental education
We have made a survey among schools' teachers and officers on environmental education. It shows that the majority of them favours this model of education. However, there must be additional knowledge of water, running wastes and waste recycling technology, sewage treatment, etc. We should organize some games and trips for all teachers to update their information about environment, wasted water treatment or recycled garbage…

 * How can it be carried out?

 * Early 2006, our office plans to co-ordinate with Ho Chi Minh City Department of Education and Training to consolidate the environmental education given at the twelve schools as well as to expand this model of education to twenty other schools. The main contents include fundamental knowledge such as water pollution and wastes; presentation skills; teaching instruments; field trips...

In the year 2006, HCM City Office of Environmental Protection will also co-ordinate with the Women Union, the Medical Prevent Center, the city's Youth League, Authority of Industrial Zone and Export Processing Zone Management, Electricity Company, districts and local enterprises to train more than 8,000 young people in such areas.