Red-eared turtles Trachemys ocripta, which international scientists say are harmful to the environment, have been seen in different localities in Vietnam.
A fisheries company in Can Tho City, Mekong Delta, imported in June 40 tons of the red-eared turtles (about 24,000 animals) from the US for farming.
After the importation, the company raised them at a farm in neighboring Vinh Long Province. A number of the turtles have died.
Relevant authorities have set this August 31 as the deadline for the company to kill all or re-export the reptiles alive. 
The red-eared turtles are also seen elswhere in the country.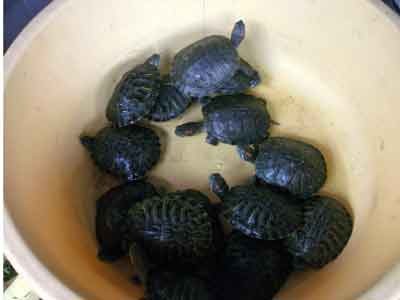 Red-eared turtles seen sold at an ornamental fish shop in Ho Chi Minh City on August 13, 2010 (Photo: SGGP)
In Hanoi, ornamental animal shops sell them. At dozens of shops on Hoang Hoa Tham Street, one can buy a red-eared turtle at VND40,000.
At shop 626 Hoang Hoa Tham street, the shop assistant said she has sold the turtles for ten years. 

Ms. Nguyen Thi Hanh at 713 Hoang Hoa Tham street shop, where sells big turtles of about 1.5 kg each at VND250.000, said some people bought a turtle to keep as a pet, others brought them to release in pagodas or in rivers, as Buddhism tells.
For years, Hanoians have purchased the small colorful reptiles to release them into Ho Guom (Sword Lake) for luck seeking on the lunar new year or on the fifteenth day of lunar months. Visitors can see the animal resurface in the lake.
Professor Ha Dinh Duc, a turtle scientist, says first red-eared turtles were found in the lake in 1997 despite its origin in North America. He says he does not know by what way the strange reptiles came to Hanoi.
Prof. Duc says the Vietnamese government has to get the Can Tho company that imported the turtles in June to re-export them to the original country as well as quickly implement measures to curb the sale of the turtle in market and releasing it into rivers.