The southern tip province of Ca Mau is losing about 927 hectares of land each year, according to the provincial Department of Agriculture and Rural Development.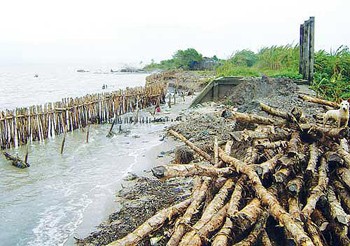 Ca Mau Province land loss is worsening (Photo: Thanh Nien)
Accordingly, canals are eroding soil by 0.5 meters while the sea swallows an average of five meters of beach in Ca Mau every year.
These statistics were disclosed in a meeting held yesterday between the province authorities and the Deputy Minister of Science and Technology Tran Viet Thanh to debate the riverside and coastal land loss.
Provincial authorities said that finding funds to tackle the problem was the main worry. Besides, they lack the appropriate expertise in coping with the land erosion.
Mr. Thang listed the many difficulties of the province and ordered the provincial leaders and relevant departments to think up better temporary measures to cope with the land erosion.
The ministry plans to dispatch a group of experts to Ca Mau to help the province in finding solutions to tackle this problem.