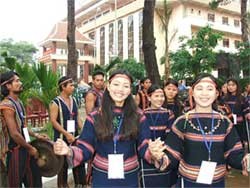 Ethnic minority people in Central Highlands will get financial assistance from the State.
Ethnic minority people residing legally in Central Highland provinces will be offered VND300,000/person/month for their six-month vocational study. The funds come from the state budget.
This is one of the issues in the instructions of the Ministry of Finance on supporting units who employ ethnic minority people. These units include state-owned agricultural and forestry enterprises, Special Use Forest Management Board, Protective Forest Management Board.
Also, the state budget will pay 15% of social insurance and 2% of health insurance for ethnic minority workers who have been employed for less than five years.