People's Committee of the central province of Quang Ngai approved a project to provide ethnic minorities with petroleum, books and notebooks gratis.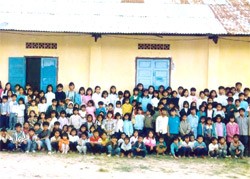 These ethnic minority pupils will be provided free books and notebooks to help ease their parents' burden
The total of the grant is more than VND1 billion.
In some mountainous areas has no access to the national electrical grid so oil is used for lighting. Books and notebooks will be given to pre-school to secondary ethnic pupils.
The committee also instructed the district Nationality Board, the Trade and Tourism Department, Finance Department and people's committee chairmen to carry out the project to improve ethnic minorities' lives and facilitate pupils to schools.