The European Union (EU) continues to see Vietnam as an important partner in all areas as the country's economy grows.
Ambassador and Head of EU delegation in Vietnam Sean Doyle made the statement at a workshop on the prospect of in Vietnam-EU cooperative relations for the 2011-2015 period and Vision to 2020 in Hanoi on Nov. 16.
Deputy Foreign Minister Bui Thanh Son hailed the EU's contributions to promoting development of the bilateral relations and said the EU was one of Vietnam's key partners.
According to the deputy minister, the prospect of bilateral cooperation in five to ten years is "bright and favorable". With Vietnam's political and geo-economic position in the region, developing ties with Vietnam will create favorable conditions for EU to promote relationships with as well as increase its role in Southeast Asia.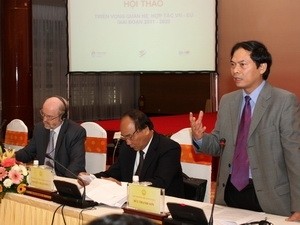 A speaker gives a speech at the Nov. 16 workshop in Hanoi on the prospect of in Vietnam-EU cooperative relations for the 2011-2015 period and Vision to 2020 (Photo: Vietnam News Agency)
The Partnership and Cooperation Agreement (PCA) initiated in October will be a precondition for both sides to reach a bilateral Free Trade Agreement (FTA), with consultations currently underway.
"FTA negotiation and signing would offer opportunities for economic and trade cooperation for both sides," Son said, adding Vietnam's investment and business environment will be more attractive for EU investors.
According to Deputy Minister of Industry and Trade Tran Quoc Khanh, trade is an outstanding area of cooperation since the two sides established diplomatic ties in 1990.
In 2000, two-way trade between Vietnam and the EU reached 4.1 billion USD and rose to 15.2 billion USD in 2009, an increase of 3.68 times with Vietnam's exports to the EU rising 3.3 times to 9.38 billion USD. In the first nine months of this year, Vietnam's exports to the EU reached 7.8 billion USD, up 13 percent over the same period last year.
Of Vietnam's major exports to the EU, footwear always leads in turnover, with 2 billion USD in 2009. It is followed by apparel with 1.6 billion USD and seafood with 1 billion USD. Other exports like plastic products, furniture, rubber and electronics also see high growth.
Since the Law on Foreign Investment in Vietnam took effect in 1988, the EU has invested in 1,036 projects with a total registered capital of 16 billion USD, ranking among top investors in the Southeast Asian country. EU-invested projects are concentrated in construction, oil and gas, services, agriculture and forestry.
Almost all major EU corporations are present in Vietnam and operating successfully – including Shell, Daimler Chrysler, Siemens, Alcatel and Comvik.