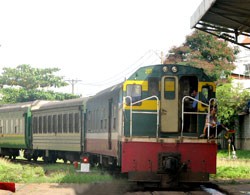 A project of modernizing the railway information system between Hanoi and Vinh is conducted. (Photo: T.C.)

The Ministry of Communications and Transport has submitted to the government its feasibility study on the second stage of the project modernizing the railway information system between Ha N

oi and Vinh.
The investment capital is projected to be over EUR51 millions, of which EUR40.3 million is from Official Development Assistance (ODA).
The project will cover the building of a fiber-optic cable network, digital telephone exchanges, supervising and warning information, gas and power network in 36 train stations along the Ha Noi - Vinh route.
When the project is completed, passenger trains will reach 120 kilometers per hour, and freight trains 80 kilometers per hour with increased safety level.