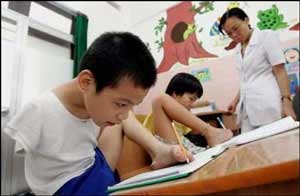 Two Agent Orange-affected children seek to learn how to write with their feet in Viet Nam
The Vietnam Association for Victims of Agent Orange/Dioxin (VAVA) has held a press meeting on the results of the working tours of Vietnamese Agent Orange victims to France, Italy and the U.K. led by Nguyen Thi Binh, honorable president of VAVA.

The victims met and contacted international friends in these countries from November 29 to December 15, 2005.
Ms. Nguyen Thi Binh said in places where the VAVA delegation visited, at working sessions and conferences, the delegation kept the audience informed of hard life of the victims and the developments of the victims' lawsuit against U.S. chemical companies.
The delegation reached some agreements with international friendship organizations in Europe to support the lawsuit. Organizations and public in the three countries pledged to organize campaigns for signatures to support the case from now to March and April 2006, when the U.S. Appeal Court will make its ruling. The people will support Viet Nam to build a rehabilitation center in Da Nang for the Agent Orange victims.
US Harvard University wants to build hospital for war victims
Viet Nam has more than five million Agent Orange victims and 70% of them are facing poverty, according to VAVA. The association has so far received more than VND6 billion from donors to help the victims. Harvard University's Medical School has told VAVA that it wants to build a hospital in Hue City for the war victims.