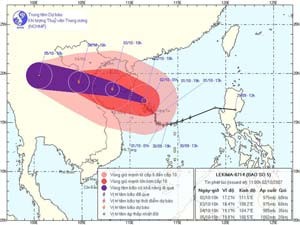 The path of typhoon Lekima yesterday (Photo: Tuoi Tre Newspaper)
All relevant officials must evacuate inhabitants, especially senior citizens and children, from endangered areas and instruct offshore fishermen to seek shelter before 12 pm today, said Deputy Prime Minister Hoang Trung Hai in an emergency meeting yesterday.
Moreover, students in the affected areas of Typhoon Lekima must not attend school today. Local officials will cooperate with parents to protect the children, said Ministry of Education and Training.
Reports from local officials showed that over 293,000 people in the central provinces of Quang Binh, Ha Tinh, Nghe An, and Thanh Hoa are threatened by flooding and in need of evacuation.
Medical supplies were distributed to health officials yesterday in central provinces from Ninh Binh to Quang Tri.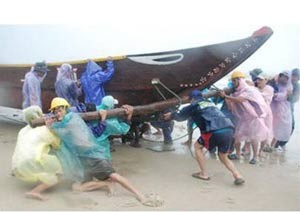 Thousands of ships reach shelter yesterday (Photo: Tuoi Tre Newspaper)
In the northern province of Thanh Hoa, all 4,160 fishing boats have reached shelter, but in the central and southern parts of the country, thousands of ships and fishermen are still out at sea.
Prime Minister Nguyen Tan Dung concluded his visit to France earlier than planned to provide guidance for the prevention work of Typhoon Lekima today.

According to the National Hydrometeorology Forecast Center, Typhoon Lekima will affect a large area of Viet Nam, from the northern province of Thanh Hoa to the central province of Quang Binh. The typhoon is expected to bring heavy rain and threaten local people with landslides and flooding.

Related article:
Nation Gets Ready to Face Typhoon Lekima