With the participation of the E-Mobile network, EVN Telecom can offer competitive call rates and premium call quality to its subscribers, said an EVN Telecom official at the launching ceremony.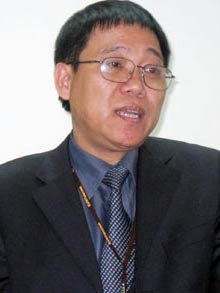 Director of EVN Telecom Nguyen Manh Bang: "E-Mobile will charge calls on a six-second block basis"
EVN Telecom, a branch of the Electricity of Viet Nam (EVN), launched its mobile phone network E-Mobile (post code 096) on a trial basis, becoming the fifth mobile phone service provider in Viet Nam.

The E-mobile network with CDMA (code division multiple access) technology, has covered in nearly 60 cities and provinces nationwide, said EVN Telecom.

Director of EVN Telecom Nguyen Manh Bang affirmed that besides the rate calculation on a six-second block basis, the company will offer the cheapest mobile service on the mobile telecom market.
The 096 network is expected to charge even less than the 098 network of Viettel Mobile Corporation, which is considered the lowest at the present.

New package offered by S-Fone
Meanwhile, S-Fone network is waiting for the Ministry of Posts and Telematics' permission to calculate call rates on a one-second block basis.
The Ministry agreed on S-Fone's issuance of prepaid Forever card, which has unlimited time of usage. With this service, S-Fone subscribers can make phone calls as long as there is still money in their account. And there is no limitation on the call receiving period.
The prepaid Forever card is valued VND100,000 at the minimum and its call rate is VND270 per six-second block (VND2,700 per minute).