Vietnam Electricity (EVN), the largest power group in Vietnam, January 23 began releasing water from the Hoa Binh, Thac Ba and Tuyen Quang hydropower plant reservoirs to provide more water to lower sections of the Hong (Red) River.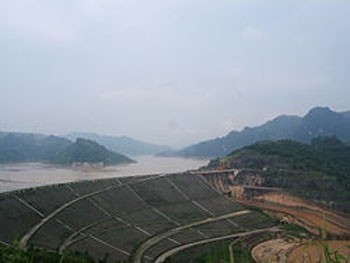 A view of the Hoa Binh reservoir, which together with the Thac Ba and Tuyen Quang reservoirs began releasing water January 23 to lower sections of the Red River (Photo: Wikipedia)
The water will be released until January 25 to help Red River delta provinces cultivate winter-spring rice crops.
Over the past two days, heavy rain in the south helped ease drought conditions which had lasted several months, but the precipitation was not enough to saturate the entire region.
A maximum of 1,618, 143, and 333 cubic meters of water will be released each day from the Hoa Binh, Thac Ba and Tuyen Quang reservoirs respectively.
This is the first of three stages in which EVN will release water for the delta's farming production this year.

Nguyen Lan Chau, deputy director of the National Hydro Meteorological Forecast Center, said the water level of the Red River on January 26 would increase up to 2.25 meters from the current level of 0.52 meters.
This will provide enough water for local provinces to cultivate their crops.