Electricity of Viet Nam (EVN) and a contractor consortium have signed an engineering, procurement and construction (EPC) contract for the Vinh Tan 4 plant expansion.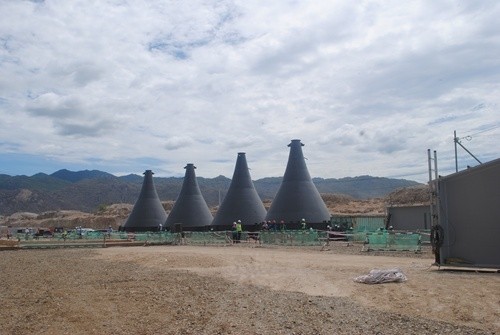 A source from EVN said that the plant expansion project will start construction later this month and put into operation by the end of 2019 in supplying the power needs of the South Central region and the Southern provinces with about 3.6 billion kilowatt hour per year. — VNS Photo
The consortium comprises Doosan Heavy Industries and Construction (Korea), Mitsubishi Corporation (Japan), Power Engineering Consulting Joint Stock Company 2 (PECC2, Viet Nam) and Pacific Corporation (PAC, Việt Nam).
A source from EVN said yesterday the plant expansion project would start later this month and the plant would begin supplying about 3.6 billion kilowatt hour per year to the south-central region and the southern provinces by the end of 2019.
The 600MW Vĩnh Tân 4 Thermal Power Plant Extension, located in Binh Thuận Province, uses supercritical coal-fired technology with an investment of US$1.1 billion.
Jitaik Chung, vice-chairman and chief operating officer of Doosan Heavy Industries Group, said he would mobilise all available resources to implement the Vĩnh Tân 4 Thermal Power Extension project and ensure efficiency, safety and the best quality to ensure that the factory becomes operational on time. Last year, EVN and Doosan Viet Nam Heavy Industries (Doosan Vina) completed the installation of a heavy girder of the first boiler unit of the Vinh Tân 4 Thermal Power Plant for the first unit that becomes operational in 2017.
Earlier this year, Doosan Vina shipped 354 tonnes of high-tech boiler components to the plant. The plant, the construction of which began in 2014, comprises two 600MW units, creating a total installed capacity of 1,200MW. The annual power output is expected to reach some 7.2 billion kWh.