The Electricity Vietnam's Southern Power Corporation (EVN SPC) said at a press brief that it achieved the year's goal to produce electricity for production.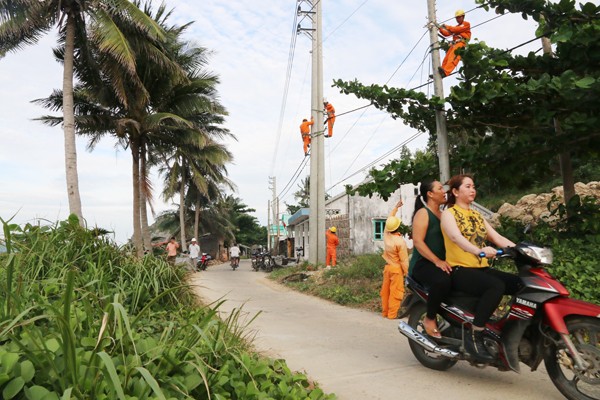 Workers of EVN SPC fix power lines on a utility pole in Hon Nghe Island in the Mekong delta province of Kien Giang (Photo: SGGP)
Moreover, in 2016, EVNSPC  installed electricity grids in remote districts, mountainous regions and islands.  It ensured electricity for watering in drought-effected southern and central provinces of Binh Phuoc, Ninh Thuan, Ba Ria-Vung Tau as well as provided electricity for pumping water to reduce salinity intrusion in the Mekong delta provinces of Ca Mau and Soc Trang.
Additionally, EVN SPC also invested in electricity grids in 2016 and continued in the period 2017-2020 in rural districts and these areas which have no electricity. The intensive investment  heightened the supplying capacity of the national grid, ensuring electricity supplies for the southern.
For instance, it invested VND6,552 billion (US$287,972,324) in the electricity grid in 2016 and it did spend VND6,548 billion to achieve 99.98 percent of the plan.
The power grid upgrade projects in Vietnam are intended to reduce power cuts and ease the overloading of the 220/110kV system. The projects also seek to improve electricity quality and reduce power loss to increase the credibility and safety of the grids.
It finished 619 works in the year including 619 electricity grids, accordingly it increased capacity of more than 2,243MW and total capacity of distribution station to 348 MV and saved 1,395 billion kWh.
A representative from EVN said that in 2017, it will operate 570 construction into the national grid including three electricity grid work 220kV, 134 electricity grid work 110kV and 433 grids work having 1,894 km of 110kV grid; 2,197km of medium voltage; therefore, total capacity of 110kV station increased by 4,104MV and total capacity of distribution station also soared by 272 MV.
Especially, it will operate three station 220kV in the southern provinces of Long An's Can Duoc District, An Giang Province's Long Xuyen District and Dong Thap Province's Sa Dec.
EVN SPC has planed to allocate VND8,348 billion for future investment including VND6,700 billion for national grid.