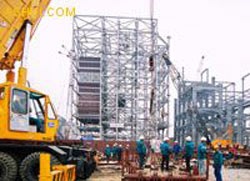 Generator installation at the EVN's Uong Bi thermal power plant (Photo:TK)
The Electricity of Viet Nam (EVN) Corporation is boosting the construction of 25 power plants and increasing its current power plants' capacity in a bid to supply enough electricity for the dry season of 2007.
EVN plans to put into operation and increase the capacity of the Phu My 3 power station in the southern province of Ba Ria-Vung Tau in October, 2006, three months earlier than expected.
The project of Phu My 2.1 extension gas turbine power plant will start operating in the second half of the year.
Besides, the first generator of the EVN's Se San 3 hydroelectric plant has been put into operation in May while the second one is expected to start working within July, 2006.
Together with a gas-fuelled power plant project in the southernmost province of Ca Mau, two hydroelectric plant projects in the central province of Quang Tri and the northern province of Tuyen Quang will begin generating electricity in 2007.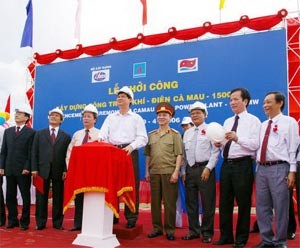 Ground breaking ceremony of the EVN's Ca Mau gas-fuelled power plant project.
In this October, EVN will complete six major power grid transmission projects to import an additional 200MW of electricity from China, aiming at supplying enough electricity for the 2006-2007 period.
Moreover, EVN is also working out another project to buy electricity from China's Yunnan province.
Under the project, which will be carried out late April, 2007, the purchased electricity is scheduled to be transmitted via a 500-km 220kV transmission line, running through Thanh Thuy border gate in Ha Giang province.
From early 2006, EVN's total output reached 28.4 billion kWh of electricity, an increase of 12.4% year-on-year, among which the corporation generated nearly 22 billion, accounting for nearly 77% and basically satisfying the rising demand for electricity during the dry season of 2006 and for water supply in the winter-spring crop.
Related link: