Vietnam Electricity (EVN) announced on December 19 that electricity rates are set to increase by 5 percent from December 20 to VND1,304 (US$0.06) per kWh, up by VND62 per kWh.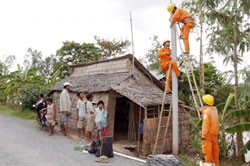 Electricity prices increase by 5 percent from December 20 (File photo: VNA)
The present rate of VND1,304 is not inclusive of value added tax (VAT).
A representative of EVN said that the increase would not apply on the first billing till 50 kWh for the poor, who normally use less than 50 kWh of electricity per month, and till 100 kWh for the average citizen.
Previously, EVN had sent a proposal to the Ministry of Industry and Trade on December 13, to allow increase in power prices by 5 percent. The ministry approved the same on December 16.

According to an EVN report, the group suffered a loss of VND10,162 billion ($483 million) in 2010 due to low hydro-power plant output because of insufficient water supply.

EVN had to utilize its oil-fired plants and purchase additional electricity at higher rates, causing operational costs to soar. Increased fuel prices and exchange rates also contributed to rising expenses.

According to EVN, adjusting of electricity prices was necessary to cover unexpected and unforeseen costs of purchasing power from oil-fuelled power plants last year.
Higher electricity rates will also help attract more investors into the power sector, as well as encourage people to save and use electricity more efficiently and economically, the EVN representative added.