Residents previously honored with the title "Excellent citizens who follow Uncle Ho's shining example in study and work," gathered together in northern Yen Bai Province December 7 to meet one another.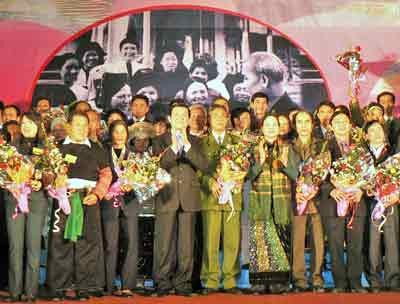 Mr. Truong Tan Sang (C) and participants at themeeting (Photo: SGGP)
The citizens from mountainous northern areas were recognized earlier for exemplifying the values of former President Ho Chi Minh in realizing outstanding achievements. 
The event was organized by the Communist Party of Vietnam Online Newspaper, the northwest region Steering Committee, and the provincial committee of the party.
Through the campaign "Young people studying and working in accordance with Uncle Ho's teachings" launched in 2007, there have been more exemplary accomplishments in all sectors, the meeting heard.
Addressing the group, Truong Tan Sang, Politburo member, Permanent Secretary of the Party Central Committee, and permanent deputy head of the central campaign steering committee, said the campaign has created an excellent atmosphere among state employees, Party members and people of all classes.
"In society, if everyone tries to do one good thing a day, it would sweep away evil. Goodness would grow and be maintained. Recognizing good examples is important as it encourages more people to work and study hard," said Mr. Sang.
He said he expected individuals and organizations in all sectors to continue their achievements and lead the way in setting moral standards for others to follow.
Mr. Sang stressed that the northern mountainous region plays an important role in the development and protection of the country. He also applauded governments and organizations in the region for improving the quality and activities of Party units and members.