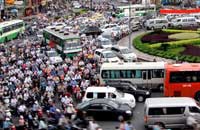 Cars will be strictly controlled to limit the amount of harmful eshaust fumes on July 1, 2008
From July 1, 2008 all cars in the country will have to apply a new exhaust, designed to reduce fumes to help decrease pollution. This had only been applied to cars in five cities previosly; Ha Noi, Hai Phong, Da Nang, HCMC and Can Tho on July 1, 2007.
The new exhaust fume standard named Euro 2 will be strictly controlled to limit the amount of harmful exhaust fumes released and cause environmental pollution such as carbon monoxide, hydrocarbon, sulphur oxide, nitrogen oxide and dusty smoke.
Mr Nguyen Huu Tri, Head of Verified Motorbike Department under the Viet Nam Register Administration commented that vehicles that have petrol engines need to be limited in the exhaust fumes to no more than 4.5CO, and not able to pass over 3.300ppm to special engines. Diesel engines are limited to a maximum of 72 percent HSU.
From 1 July 2008, all cars in the country that do not meet the exhaust fume control standard will not be issued certificates of safety technological environment.
Box:
Up to 90% of motorbike owners said that Ha Noi's air environment was being polluted; 98.5% said that air pollution affected human health, and 97.4% said that motorbike exhaust fumes contributed to air pollution.