Heavy financial losses from crocodile breeding in two provinces of Bac Lieu and Ca Mau in the Cuu Long (Mekong) Delta region last year have forced local farmers to get cautious before deciding to invest in crocodile farms this year.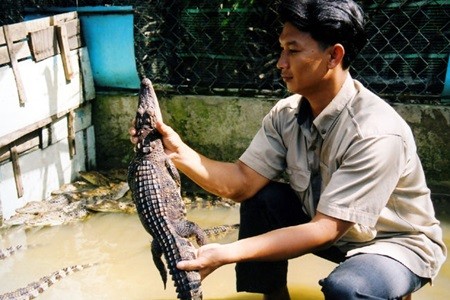 A farmer checks an 8-month-old crocodile on his farm in Binh Hung Commune, Binh Chanh District in HCM City. Some farmers have suffered heavy financial losses from crocodile breeding in the Mekong Delta region. — VNA/VNS Photo Pham Do
The rainy season in the south, which started in June, was the time for crocodile breeders in Cuu Long Delta provinces to kick-off the new breeding season.
However, breeding experts and authorities are warning about the consequences of uncontrolled crocodile breeding in such provinces.
Dan tri (People's Knowledge) newspaper's investigations revealed that most breeders have completed upgrading the breeding facilities and have begun purchasing baby crocodiles.
Nguyen Van Luom living at Cai Nuoc District, Ca Mau Province, who suffered heavy losses from crocodile breeding last year, decided to invest VND100 million (over US$4,500) in building two new crocodile farms.
"I have had one crocodile farm since 2013. This year, I see that both local breeding has developed and the price is up, so I will continue investing money in breeding, aimed at retrieving the starting capital," he said.
Luom is not alone in Ca Mau Province. Many local crocodile breeders who suffered losses last year are hunting for baby crocodiles resulting in a price rise.
A baby crocodile now costs up to VND600,000 ($27), which is double what it was in the beginning of this year.
Luom said the scarcity of baby crocodiles has pushed prices up, but the quality and sources of breeders are unreliable.
Ca Mau Province's agricultural department reported that since early this year, there are over 200 households which have registered to breed up to 4,000 crocodiles.
Farmer Lu Van Tan said the cost of a baby crocodile in Bac Lieu Province is increasing rapidly. Tan and several other breeders come to nearby provinces to purchase baby crocodiles.
However, Do Van Dong, deputy head of Ca Mau Province's Forestry Management Department, has warned that the actual number of crocodiles raised on farms is higher.
Crocodile breeding must be registered with the Provincial Forest Management Department, but many breeders are ignoring regulations and safety specifications, and putting people's safety at risk, he said.
Luong Ngoc Lan, director of Bac Lieu Province's Agriculture and Rural Development Department said that there are newly-raised concentrated crocodile breeding areas in three districts and Bac Lieu City.
The province now has 1,594 breeding households with totally 169,092 crocodiles.
"We are worried about uncontrolled breeding even while the consumption market is poor," Lan said.
"We are calling investors and crocodile processing enterprises to set up consumption markets and baby crocodile breeding farms," he said.
Epidemics are also the biggest worry for crocodile breeders.
Dong, from the Ca Mau Forest Management Department, recollected that last year's epidemic caused several breeders to lose all their money, because crocodiles weighing 7 to 8kg, which were available for sale, died.
Dong said if breeding households want to export crocodiles, they must prove the source of the animal to trade partners.
The consumption market for crocodiles raised on farms in Cuu Long Delta provinces was mainly in China via small-volume trading.
"If farmers continue to do large-scale crocodile breeding without a purchasing contract, trade partners can increase or reduce the price at will," he warned.
Concerned authorities in Ca Mau, Bac Lieu and Dong Thap provinces have implemented measures to support crocodile breeders, including co-ordination between breeders and local fine-arts processing enterprises using material from crocodiles, and for exporting crocodiles with contracts.
However, economically it does not meet its designated target.