The Institute of Policy and Strategy for Agricultural and Rural Development has conducted a field investigation to determine reasons for the annual congestion of Vietnamese fruits in border areas with China, which has occurred and plagued farmers for the last 15 years.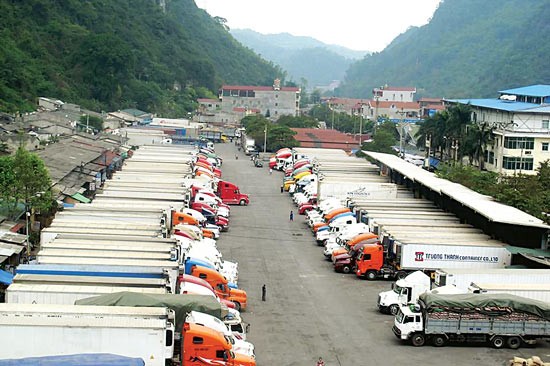 Trucks carrying watermelons wait in Tan Thanh Border Gate, Lang Son province (Photo: SGGP)
At a seminar in Hanoi yesterday Dr. Nguyen Trung Kien from the institute, who led a group of experts to conduct the investigation, said that they had done surveys at border gates in Lang Son province and China's sides to seek answer for the issue.
 
China has applied a tight quarantine process causing many fruit consignments from Vietnam unable to enter that market. Meantime, Vietnam has long delayed the construction of storage facilities in the border areas for fruit preservation.
 
A more important reason is from the weak competitiveness in packaging and price of Vietnamese farm produce compared to Chinese goods. The trade between the two sides has been done via brokers without any contracts.
Businesses have rushed to transport watermelon, the most jammed product, for exports to the neighboring market where the fruit's farming area has much been expanded.
 
Chinese watermelon quality is superior to Vietnamese fruits with lower price, fetching only VND9,000 a kilogram in Nanning city.
 
"Their watermelons are more eye catching and sweeter than our," said Mr. Kien.
 
To litchi, China has expanded farming area. Although their fruit is not as delicious as Vietnam's, their harvest season starts one month sooner in May and the fruit has been transported across the border to flood local market.
 
Head of the institute Nguyen Do Anh Tuan said the fruit congestion in the border gates was a big concern of Vietnam's agricultural industry.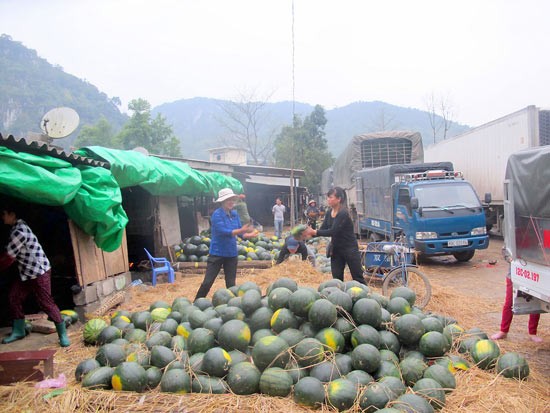 Watermelons lie unsold in Tan Thanh Border Gate (Photo: SGGP)
Litchi, dragon fruits and others have not been Vietnam's sole advantages any more. Chinese experts said that they can farm any fruit grown in Vietnam. They even had tropical and temperate fruit farming zones, Mr. Tuan said.
 
Experts at the seminar said that if Vietnam remained their old production and consumption methods without any advances especially in science and technology, it would not be able to boost exports across northern borderline and might face the flooding of Chinese fruits in local market.
 
They proposed authorized agencies to set up a body to investigate and do market surveys to inform farmers and businesses so that they reschedule their crops, build up a network of prestigious importers, link up businesses and farmers, advance post-harvest processing technology to improve product quality as well as hygiene and safety, and look for other potential markets beside China.