HA NOI (VNS) — While Viet Nam's population policy has been largely successful, remote areas still face major difficulties, experts said in a conference on Friday in Ha Noi.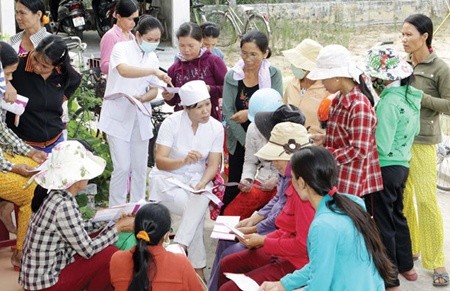 Medical staff disseminate population policy with women in the central province of Quang Nam's Nui Thanh Commune. While Viet Nam's population policy has been largely successful, remote areas still face major difficulties. — VNA/VNS Photo Duong Ngoc
Viet Nam had made impressive progress in achieving its population goals, said Pham Van Linh, deputy chairman of the Central Commission for Publicity and Education (CCPE), citing data from the 2009 census and other population-based surveys.
The average Vietnamese woman now has two children, meaning that the country reached replacement level fertility many years earlier than the Politburo's target, according to the official. Reductions in maternal and child mortality had also been impressive.
"However, progress made at the national level masks disparities at the sub-national level. Inequalities and disparities have been increasing and are accompanied by new forms of poverty and vulnerability that will require greater attention in the coming years," Linh said.
The mortality rate of children under five fell from 58 per 10,000 live births in 1990 to 23.2 in 2012, while the mortality rate of children under one decreased from 44.4 in 1990 to 15.4 in 2012. The maternal mortality rate decreased more than threefold, from 233 per 100,000 live births in 1990 to 68 in 2012.
However, the rate was vastly different in different localities. In the Hong (Red) River Delta, the 2012 mortality rate of children under one was 12.3, but in the Central Highlands area, it was 26.4, according to the General Office for Population and Family Planning. Similarly, the maternal mortality rate in mountainous areas was 108, whereas the rate in plains areas was only 36.
Professor Nguyen Dinh Cu from the National Economics University's Institute of Population and Social Issues said it was crucial to shift from population-family planning policy to population-development policy by improving the quality of human resources through enhanced education, with an emphasis on reproductive health.
"This is a must to ensure a people-centred principle for development," he said.
As the population changed, Cu added, it was essential to establish a comprehensive and reliable population data system in order to ensure the effectiveness of policy and plan implementation.
Arthur Erken, UNFPA Representative in Viet Nam, said that the new Population Law must ensure that all population groups, regardless of age, sex, marital, income or health status, geographical location or ethnicity had equal access to sexual and reproductive health services.
"The new law is an excellent opportunity for Viet Nam to protect the rights of couples and individuals to decide freely and responsibly the number, spacing and timing of their children and to have information to do so," he said.
The conference was organised by the CCPE and United Nations Population Fund (UNFPA) in Viet Nam in preparation for the CCPE's review of the ten years of implementation of the Politburo's Resolution 47-NQ/TW on strengthening the implementation of the population and family planning policies, which will be held in March next year.