At a meeting organized by VnEconomy Newspaper and Vietnam Food Association on September 12, experts discussed production and business re-arrangement to raise value of rice exports and thereby enhance farmers' living standards.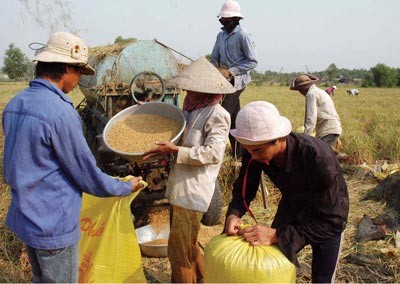 Farmers in Mekong delta harvest the summer-autumn crop (Photo: SGGP)
In 2012, the country exported more than 7.5 million tons of rice, ranking second in the world, after India, in rice exports.
In the first eight months of the year, the country exported nearly 4.7 million tons with revenue of US$2,005 billion.
However, the quantity has slumped by 7.86 percent and revenue is down by 11 percent against the same period last year, with average price going down by $15 per ton. Experts believe Vietnam will face harsher conditions by year end.
Pham Van Bay, Deputy Head of Vietnam Food Association, said the country is totally reliant on the world market. This year, Thailand lowered rice price due to huge inventory and India decided to lower on account of a bumper crop.
On the other hand, with no facility to stockpile rice for a long time and bank interest pressure, Vietnamese enterprises are compelled to sell rice as quickly as possible, which brings down prices.
Disheartened, farmers in North Vietnam have begun to leave their paddy fields uncultivated. However, the Ministry of Industry and Trade said that these are but some scattered cases in provinces.
There is now need to restructure the agriculture sector based on market demand, mark areas for planting rice, and build Vietnamese rice brand names in the world market to strengthen trade.