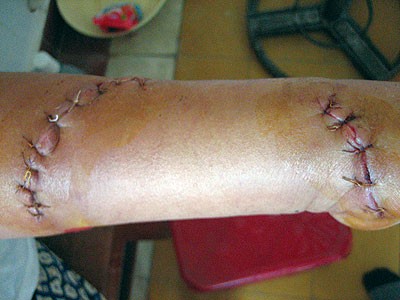 Nguyen Minh Tuan has his arm badly bitten January 9 by an unknown fish while swimming off the central coast. Experts have now identified the fish as selachium ( Photo: Thanh Nien)
The Nha Trang Oceanography Institute January 13 said an unknown species that has attacked around 20 swimmers off the coast of central Quy Nhon Town, has been identified as a type of fish called selachium.
After two days of studying victims' injuries and speaking with local fishermen, scientists from the Nha Trang Oceanography Institute made the conclusion.
Selachium are abundant off the coast of Quy Nhon in Vietnam's central region. The fish mainly inhabit coastal areas, laying eggs in the sea off Ghenh Rang District, in the central province of Binh Dinh.
They normally don't enter waters where people swim, but experts say it's possible the aggressive fish were attracted to fishermen's bait in other areas of the sea frequented by swimmers.
Nguyen Huu Hao, chief of the Binh Dinh Provincial Bureau for Aquatic Resources Exploration and Protection, said the agency would encourage local residents to hunt the fish to ease public concern.
Related article:
Unknown creature attacking ocean swimmers