Farmers may be benefiting from a Prime Minister decision to provide interest subsidies on loans to buy locally-manufactured agricultural implements, but some experts are concerned about the supply and quality of the equipment.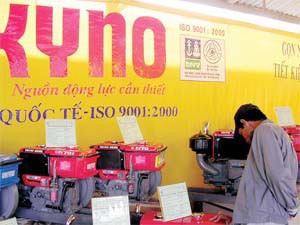 Some products made by VIKYNO, a leading manufacturer of farming machines in Vietnam (Photo: SGGP)
Dr Le Van Banh, head of the Mekong Delta Rice Research Institute, said the country has only a handful of producers of combine harvester and even they can turn out just 60-70 pieces a year.
For them to meet the demand in just the Mekong Delta area would take dozens of years, he pointed out.
Besides, the quality of domestically-made machines and equipment is also a concern, he said, since they are manufactured using materials of unclear origin and quality.
Of the combine harvesters now used in the delta, 90 percent are Chinese ones, he said.
Duong Nghia Quoc, deputy director of the Dong Thap Province Department of Agriculture and Rural Development, said: "We are concerned that subsidies are only given for domestically-made implements though the country does not yet have the capability to make high-quality products.
"So it is advisable to include foreign-made implements in the list," he said.
He said the government should first provide financial incentives to domestic makers of combine harvesters so that they can expand.
Despite being one of the Delta's main goals, mechanization of agriculture has proceeded very slowly, said Dr Nguyen Huynh Thanh, deputy head of the Can Tho City Social and Economic Institute.
Even Dong Thap and An Giang, two provinces that have taken the lead in mechanization, only have mechanizations rate of 42 percent and 36 percent in rice harvesting and threshing, he said.
The region now has around 3,000 combine harvesters and 3,200 reapers, which can only serve 25 percent of its 1.54 million hectares of paddies.