An explosion killing three police officers and injuring three others at a chemical storehouse of the province police headquarters in Dak Lak province last night was just an accident, said deputy  chief of Police Department in the central highland province.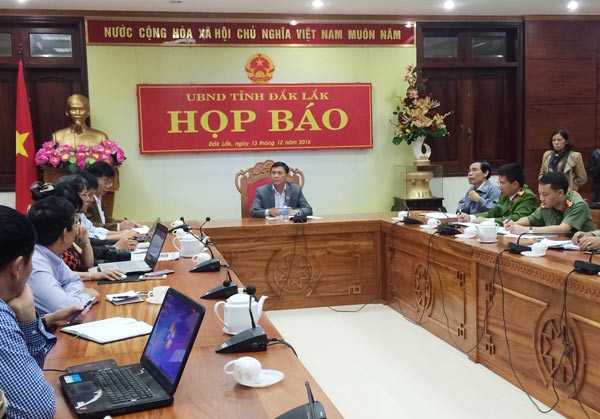 At the press brief (Photo: SGGP)
The conclusion was reported at a press brief this morning
The explosion occurred at the storehouse which is used to preserve material evidences in the province's investigation station.

Right after the incident, all injuried police officers were rushed to hospital for emergency treatment. Relevant police forces closed off all entrances to the spot to protect the scene for further investigation.
Senior lieutenant-colonel Bui Trong Tuan confirmed that the explosion was an accident and dismissed the rumor that it was a terrorist action.
Deputy director of the province's General Hospital Dr. Y Bliu said that police officer Le Quang Vu who was seriously injured had been taken to a hospital in Ho Chi Minh City for emergency treatment and the rests were in stable condition.
Prime Minister Nguyen Xuan Phuc sent his condolence to families of dead and injured policemen.