Kien Giang Province's authorities found six pieces of metal in the northern part of Phu Quoc Island Wednesday. Officials said they were not from a civil aircraft.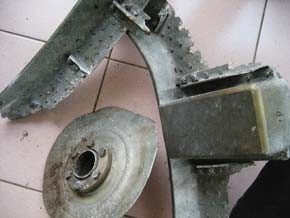 Some metal pieces found after the Tuesday explosion (Photo: SGGP)
They were identified as the same kind of other metal pieces found after the Tuesday explosion over the island, which local residents heard.
By Wednesday, 12 metal pieces of debris had been found in different places in the island.

"We suspect this is an air crash, but have not identified its type yet," said Col. Nguyen Van Qui, military chief of Phu Quoc Island District.

"The explosion was confirmed to occur in the airspace for international flights. The debris is carefully maintained and we are still carry on research."
Mr. Pham Vu Hong, chairman of People's Committee of Phu Quoc district, asserted there was no loss of life and property until now. The explosion was reported to the Viet Nam Civil Aviation Department on May 27.